We're not just another Dance Studio … we're Art In Motion!
We are non-profit Educational.
To learn how you can help support the Arts and our scholarship fund Click on "Donations"
Fall Classes have already begun click here to register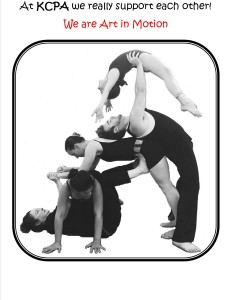 These Photos are all of our very own KCPA Students during a live performance!
Our Philosophy
 We desire to train our students in a non-competitive fun and loving environment that promotes excellence, self confidence and self discipline.   We desire to work with and perform for the local community events to encourage harmony and good will within the Kearsarge area. We love Teaching and Training Students of all ages From children 2&1/2 through adults.
Why choose us? 
The Arts should be an integral part of all students education.  Our highly qualified Staff is excited to impart their love of:  Dance, Drama, Music, Acting, Musical Theatre, Tumbling,  Acro, Ballet, Pointe Tap,  Contemporary, Modern, Jazz, Hip Hop, Pilates & Zumba to students the Kearsarge and surrounding Areas. 
We're not just another Dance Studio we are Educator's in All the Performing Arts
All our Directors have their Masters in their Chosen Fields & 30 years of Teaching Experience
Our Teachers are all fully qualified, warm and friendly because they love to teach!
We have an excellent original Pre-School Program
Our Facility has State of the Art Floors,  Mirrors and Barre's
We are conveniently located off of I89 exit 9 Rt. 103 on 33 North Rd.  We are also convenient to other communities such as:  Bradford, Newbury, New London, Sutton, Sunapee,  Contoocook,  Henniker,  Hopkington,  Springfield,  Grantham, Webster,  Andover,  Bow & Concord. Click to get Directions to the studio
2016-01-02 15:17:55
GRACE BROOKS
KCPA Dance Captain and Sr. KRHS
Grace is an amazing student that has been with KCPA since it's beginning 12 years ago!
She will be attending Plymouth State University as an Acting Major with a Minor in Dance
She was accepted in all three University programs that she applied for but felt Plymouth was the best fit
Read More about Grace
Grace put together an essay and video for a GMA contest that a portion was aired on GMA see story and video below!
Taylor Swift's "Shake it Off" has inspired my studio's performance company and I in a number of ways. This is National Stop Bullying Month, and sometimes people can bully just by being discouraging to others hopes and dreams. It's difficult to choose the performing arts as a career. Adults surrounding me say things like "well you'll never make any money".
Even my peers are constantly making fun of us dancers, and pressuring us to do sports with claims such as "it isn't a lot of activity, you're not really getting any cardio", when we are active for more hours than most sports! My instructor Miss Angela has always told us to follow our dreams, as she dealt with the same ridicule for going into performing arts in High School.
"Shake it Off", to me, is an anthem against bullying, whether it be because of how you look, act, or what your passions are. It has inspired me to be proud of who I am, ignore any bad comments someone has to say about the choices I've made in my life, and encourage others to have a thick skin to shake off all the hurtful words.
click on the link below to see actual GMA viewing
http://abcnews.go.com/Entertainment/taylor-swift-contest-viewers-shake-off-taylor-swifts/story?id=26386108
Posted in:
Kudos to our Kiddos
Read more...
0 comments
---